To save you some time and also to avoid mistyping of scores, DfW has mapped the most common scores to the keyboards F keys. When this program was ported from Amiga to PC in 1995, Martin Adams came to me with the suggestion of which scores who was to be the default mapping to the keyboards function keys (F keys). He came up with the following scores, who is still the default values of the F keys.

F1=60
F2=81
F3=85
F4=95
F5=97
F6=99
F7=100
F8=121
F9=125
F10=135
F11=140
F12=180


When having a leg shot just press the "END" key and then press a numeric key for the number of darts used (1,2 or 3 darts) or click the numeric key. The program will only show you the right number of numeric keys for the check out. For example, if you have 32 left the program will show the "1","2" and "3" numeric keys. If 81 left, key "2" and "3" is shown. If 161, only the numeric key "3" is visible. The whole built-in checkout table is configured to show the correct number of possible darts used in the check out.
Press "SPACE" when no score.

To view,edit or print a template for the keyboard shortcuts, go to the "Settings | Options" menu as shown below.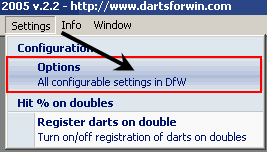 Click on the tab "Keyboard shortcuts" to view all settings for keyboard shortcuts.