From version
2.7.5.7
, Darts for Windows can be used for live scoring on
www.dartsforwindows.com
by uploading data using the HTTP protocol. The only thing you need to do live scoring using the
"WWW"
option is an internet connection. Make sure your firewall does not block Darts for Windows on port 80 (normal web browsing). If the live scoring is not working on your pc, it is only two reasons why it don't work, your firewall or no connection to the internet.
All licensed Darts for Windows has their own "slot" for live scoring on
this
page.
The direct URL to your live scoring is
http://www.dartsforwindows.com/live/livescore.html?matchid=
+ your DfW serial number and the 3 first letters in your name. Example:
http://www.dartsforwindows.com/live/livescore.html?matchid=67946556JOH
.
The link to your live scoring page is also visible in the "Settings" menu (from version 2.7.5.8) and by right clicking the live score button in the score sheet.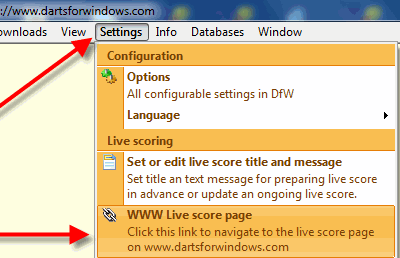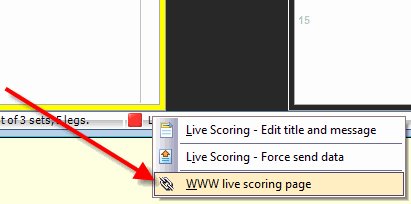 The live score page.


To start live scoring, start a new match from the "File" menu or press the keyboard shortcut CTRL-N. Configure the match settings, select the players and then click the "Start the match" button. Live scoring works both in "classic" and "simple" mode.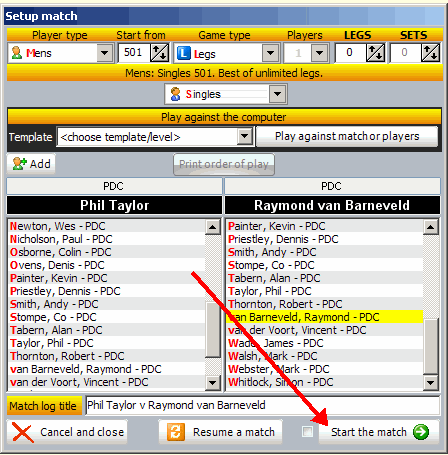 In the score sheet, right click the live score button if you want to set a tournament description/title and other info in the message field (optional) before you activate the live scoring. The default tournament title/description is "Darts for Windows Live Scoring". You can at any time during the live scoring, change the tournament title/description and also add messages or info to the "message" field.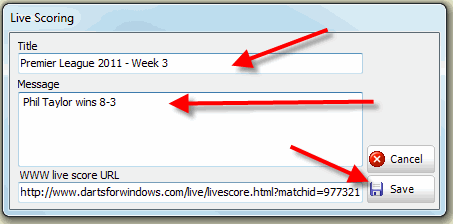 To enable the live scoring, click the
"Live"
button in the status bar as show below and then click the
"Yes"
button. As soon as the live scoring is activated a snapshot of all available info for the current match, like players name, game format and so on, is published to the live scoring page.

Click the "Yes" button.

The text changes to "*LIVE*" and the led turns green when the live scoring is activated.


To turn off the live scoring, just click the button again and the text will change back to "Live score" and the led turns red.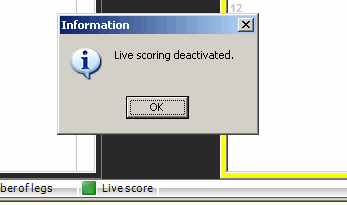 The upload of the data to the web server is done in the background so you will not notice when the data is uploaded. It is also possible to force upload of the data to the web server if you have corrected the score for example or if you want to add a comment or message to the live score.
RIGHT click the status bar to get access to the popup menu.


In the message field, you can add additional info and messages.


Note: The data is only uploaded when you press the "Enter" key in the score input box or when you force upload from the menu as described above.